Playoff Break
Well…we're a little excited about the Giants winning the first series of the playoffs.  This is part of our Marketing and Business Development teams taking a slight break to crowd around a computer and watch the Giants strike out the Reds in the ninth inning. There were small explosions of excitement throughout the game. OK, back to work! With a little bit more gusto than before...
2 tags
Happy Birthday, Nima!
One of our Marketing Analysts got a little surprise yesterday… Everyone else was surprised, too! Nima hadn't told anybody about his birthday until his wife had an impressive set of balloons delivered.
9 tags
The Face-off and the Crow
Have you seen our latest face-off video? Check it out below, and then take a look at the behind-the-scenes photos one of our super talented designers, Vic, took during the shoot. The phones… Chris gets ready to shoot the intro… Preparing to drop… Chris assesses the iPhone 5 damage… Right when Chris would start talking…this crow would start crowing. ...
3 tags
JP Morgan Chase Corporate Challenge
Yesterday after work, more than 40 SquareTraders changed into race shirts and workout gear for the annual JP Morgan Chase Corporate Challenge. It was a beautiful day for a run. Our CEO Steve Abernethy came in first with a time of 21:43. Wow!
2 tags
4 tags
The Face-off and the Cat
Have you seen our new iPad vs. Nexus 7 Face-off? We're really happy with how it turned out. And here's a little behind-the-scenes photo for you, too. Norman the cat wanted to join in on the fun, too!
What a kick...
Friday was kickball day…and it was SUNNY! (rare for San Francisco in July!) Such a beautiful day. By the way…how DID that bench break? (Thanks to Pace, our lovely newsletter guru, for the great photos!)
Party Time
A couple of weeks ago our Customer Care and Marketing teams had a little party with games, food and everyone's favorite—a keg! But we had to wait for the keg… …just until John Hua had gotten an award… …and Vince Marchi could get a little gag gift (that's an abacus). THEN it was time for the beer, taco bar and games. Don't worry,...
7 tags
The Demise of the Camera
Here are some behind-the-scenes photos of our next campaign that our awesome designer Megan took.  Thanks, Megan! I just might have to recruit you to be the official Culture Blog photographer…
Candy Time
This is your Official Guide to the Candy Bowls around the office. Get ready for your sugar rush! This is Jason. He's got the hard candy and sour candy. Ever since the Creative team moved into their new room, his candy bowl has been feeling lonely, so go in and say hey and pick up some Jolly Ranchers! Kord's got a wide variety of chocolate over in Customer Care/Ops, but he keeps...
Behind the Scenes: Drop Test Photos
Friday was Drop Day—Galaxy S3 vs. iPhone 4S. Check out the video, and below that are some sweet behind-the-scenes shots of what went down. First, the intro. We kind of had a whole crew! Then, the kids drop… John's kids are insanely cute. Everybody was smiling when they were around. After that we did the ear drop with Adrien, then headed a few blocks away to shoot the...
Such a Mess...
All right, so it's fake. But Tavis created quite a stir when he brought these into work. Becky even stopped in her tracks!
Wait a Second...Who's That Celebrity on the 21st...
It couldn't be…wait, is it?! Oh my gosh, it's Trevor Childs!! (updated with Jack's much more impressive photos) That's right, we've got a rock star in our midst and I joined some fellow fans as we cheered on this mysterious musician at the Makeout Room. Will and Richard (above) and almost the whole crew who went below. So who is this rocker (you may...
Rock Climbing!
After work on Tuesday, I joined the SquareTrade Rock Climbing Team (OK, I made up the name) on a little outing to Mission Cliffs. Zen, Dennis, Fred and Jerry go every Tuesday and I was seriously impressed by their skills. Check out the photos, and join us next time! I think I might be a rock climbing convert… Zen gets ready to belie Jerry… Jerry's a spider! He scaled that...
Bagel Wednesday!
Every Wednesday is Bagel Wednesday here at SquareTrade! Here are just a couple of yummy-looking photos to get you through your morning. Adam from Engineering suggested doing a bagel-eating contest, and Paloma from the Buyer Welcome Team was game…but Cristina in Engineering wasn't. Next Wednesday, it's happening for real!
4 tags
Happy Hour Shenanigans
Our happy hours are getting much more frequent! Looks like Stan and BJ are enjoying them… Ron looks like he's having a good time. Sergey and Morgan cheers to the end of the week… Dennis looks pret-ty comfy! Guess this was a pretty guy-centric happy hour. Don't worry, I'll get some shots of the ladies next time…because there will definitely be a next...
Welcome Lunch
This is Tavis. He's our new manager of Market Research and Customer Insights. We went to lunch to welcome him. It's called Henry's Hunan. They have great plates! Ty made sure the Marketing team was well mixed-up. Annalisa, Vic, Austin and Will don't normally sit next to each other at work so they got a chance to catch up. Kenny's full! Great lunch, and...
Behind the Scenes with ABC's Michael Finney
Michael Finney came by to talk to Steve and do a mini-drop test on the 21st floor. Check out the video and some behind-the-scenes shots of Michael Finney and Steve doing some serious dropping. Ready to drop? Taking a look at the damage. Great job, Steve! 
SquareTrade in Times Square!
Wow…a larger-than-life spot for our findings. Thanks to Vic, Vince Tseng, Vince Marchi, Austin and Priya for the time and effort they put into the iPad comparison research. 
5 tags
6 tags
Drop Test Behind-the-Scenes
Last Friday, some adventurous SquareTraders braved the cold and ventured downstairs to film the drop test. Make sure to check out the video below, and take a look at these behind-the-scenes shots of the fateful shoot: Dimitriy gets ready to drop as Jeph, our trusty cameraman/editor, looks on. Chris, our narrator, bends down to take a look at the damage. Be careful of that glass, Chris! ...
3 tags
Friday Margaritas
Did someone say margaritas? As a special Friday treat/goodbye to Lili, after work everyone went up to the 21st floor to partake in an end-of-week wind-down. So, what are the secret ingredients to a SquareTrade party? Start here…. throw in some engineers and IT'ers… Add some CS'ers… Mix it up with Marketing, Buyer Welcome Team and a couple of Chrises… ...
4 tags
Customer Service Team Party
Once the clock struck 5:00 on Friday evening, the keg was tapped, the Mexican food delivered and the calls stopped coming in. While everyone ate enchiladas, mole and rice and beans, Linda gave an inspirational speech and Kord, Susan, Bea and Christine presented awards to the famous and the infamous of the SquareTrade WSS team (or, as I recently learned it's pronounced, "Wuss"). Once the (semi)...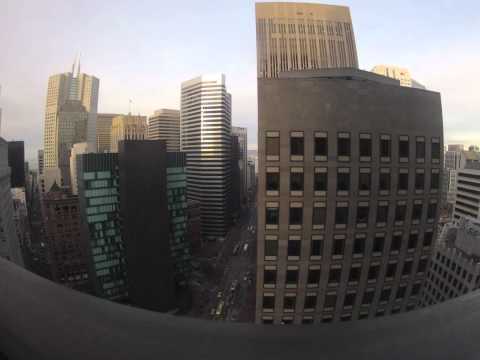 Fridays at SquareTrade
Pizza! Curries! Pad Thai…oh my! We've been pretty lucky at SquareTrade to be treated to lunches on Fridays. The engineers come down from the 21st floor, WSS agents run in between calls, and everyone else pretty much runs as inconspicuously as possible to jump on the freshly delivered deliciousness. John from Customer Service, Richard from Product and Harold from Engineering look pretty excited!
4 tags
MMMassages!
Deep breath and…relax! As a special post-Valentine's Day treat, SquareTrade gave us something to remember: 10-minute chair massages for everyone! Take a look at the photos and say, "ahhhh!"
8 tags
Your Official Sneak Peek Into 'Life at...
SquareTrade has always done things differently. We've disrupted the warranty industry by providing a customer-centric service instead of a profit-based, 'make those margins count' service.  We're one of the few warranty companies that have embraced social media and listen and respond to our customers in real time. We don't want to stop just there.  We now want to go further and provide a face to...